Beginning Tuesday, March 24th, in compliance with the government mandated, "Stay-At-Home," order, all Community Association Management staff will be working remotely for the health and safety of our clients, employees, and community. All HOA managers and office staff are equipped with remote workstations to help prevent any interruption to operations. Calls and emails will continue to be answered during normal business hours (Monday – Friday, 8:30am – 5:00pm). Thank you for your understanding, and please be assured of our continued commitment to your community during this difficult time.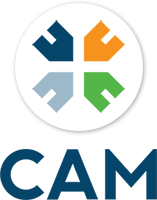 WHO WE ARE:
CAM is the answer to all of your home association needs. From high rise condominium associations to small and large single family homes and town home communities, CAM's commitment to customer satisfaction is unparalleled in the Kansas City metro area. With an emphasis in HOA, Consulting, and Solutions, CAM continues to solve your management needs one association at a time.

Our community management professionals will help guide you through every facet of HOA management. From your smallest wants to your biggest needs, our experts know just the right steps to take to help each association succeed.
COMMUNITY ASSOCIATION MANAGEMENT:
We were created with you and your community in mind, so you and your community are always at the front of our minds. We have taken all of the guess work out of initializing and stabilizing new and existing associations. Our home association management team utilizes years of extensive community management experience and uniquely vast resources to help Developers and Board of Directors create, establish, operate, and maintain successful HOA's. CAM stands by you every step of the way, never letting any problem go without a timely, well thought out solution.
Are you interested in getting the most out of your home association management? Click on an icon below to discover how CAM can help you help your community.